HOME
|
The Official Gefen Publishing House Website -
One Stop Webstore for Jewish Books and Hebrew Studies Textbooks From Israel
|
Join Email
List
|
Contact
us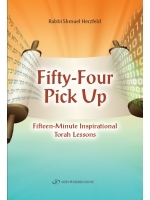 Price in Israel NIS 72
Fifty-Four Pick Up
Fifteen Minute Inspirational Torah Lessons
Author:
Shmuel Herzfeld
Price: $26.95
Special Price: $17.52
Buy from Gefen for this special price!
Format:
Hard Cover
ISBN 10:
9652295582
ISBN 13:
9789652295583
Catalog Number:
9789652295583
Description:
There is no issue too controversial for Rabbi Shmuel Herzfeld as he seamlessly connects ideas and themes of the Torah to the major issues of our times.
What does the Torah say about homosexuality?
What is the agunah crisis, and what can we do about it?
How do we effectively combat intermarriage?
Is our justice system truly just?
In this collection of thoughts about the fifty-four weekly Torah portions, Rabbi Herzfeld shows us how the Torah can guide us and inspire us in our daily lives.
Why is giving away your pillow the best way to get a good night's sleep?
Should the Internet be used for bar mitzvah lessons?
How can you be a good parent?
What would you do if you had only five minutes to live?
Rabbi Herzfeld is confident and proud of his Jewishness.His enthusiasm and unabashed love for the Torah is contagious, and his Jewish pride shouts out from every page.
Warning: If you read this book you will be infected by Rabbi Herzfeld's love of Torah!