HOME
|
The Official Gefen Publishing House Website -
One Stop Webstore for Jewish Books and Hebrew Studies Textbooks From Israel
|
Join Email
List
|
Contact
us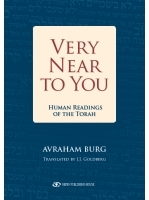 Very Near to You
Human Readings of the Torah
Author:
Avraham Burg
Publisher: Gefen Publishing House
Price: $30.00
Special Price: $21.00
Buy from Gefen for this special price!
Format:
Hard Cover
ISBN 10:
9652295647
ISBN 13:
9789652295644
Catalog Number:
9789652295644
Description:
Turn the Torah over and over again, the ancient rabbis said, "for everything is in it." Avraham Burg shows the way in his unique and valuable Torah commentary, displaying a profound mastery of classical Jewish learning and secular knowledge, informed by the events of our world and sensitive to the psychological intricacies of our lives. All these qualities combine in a truly insightful, original volume. It will reward the reader greatly!
Rabbi David Ellenson
President of Hebrew Union College-Jewish Institute of Religion
Avraham Burg is a rare and crucial figure. Not only does he use Torah to challenge contemporary values; he uses contemporary values to challenge Torah, calling on us to make Judaism relevant to the democratic experiment. It is a call of desperate importance. I hope that we on this side of the ocean summon the strength to respond.
Peter Beinart
Associate Professor of Journalism and Political Science, City University of New York
Avraham Burg turns his brilliant mind and incisive pen to the Torah itself, giving us a
bold commentary that is erudite, compassionate and revolutionary. This is Torah for the twenty-first century, addressing questions that meeker commentators fear to touch. Read this commentary, struggle, and grow with Avraham Burg, week by sacred week.
Rabbi Amy Eilberg
leader of interfaith dialogue programs, St. Paul Interfaith Network, St. Paul,
Minnesota; first woman ordained as a Conservative rabbi, author of The Icarus Syndrome: A History of American Hubris