HOME
|
The Official Gefen Publishing House Website -
One Stop Webstore for Jewish Books and Hebrew Studies Textbooks From Israel
|
Join Email
List
|
Contact
us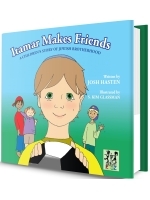 Price in Israel NIS 50
Itamar Makes Friends
A Children's Story of Jewish Brotherhood
Authors:
S. Kim Glassman (Illustrator)
Josh Hasten
Publisher: Gefen Publishing House
Price: $14.95
Special Price: $12.50
Buy from Gefen for this special price!
Format:
Hard Cover
ISBN 10:
9652295671
ISBN 13:
9789652295675
Catalog Number:
g567 / 567-5
Number of Pages:
32
Description:
Eight year old Itamar lives on a yishuv, small villiage in Israel. He loves to milk goats, shear sheep, and most of all to play soccer. When he goes to visit his cousins in the big city, he meets boys who are totally different from him- or are they?
Reviews: