HOME
|
The Official Gefen Publishing House Website -
One Stop Webstore for Jewish Books and Hebrew Studies Textbooks From Israel
|
Join Email
List
|
Contact
us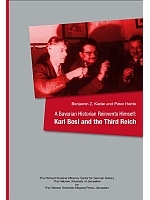 A Bavarian Historian Reinvents Himself
Karl Bosl and the Third Reich
Authors:
Peter Herde
Benjamin Kedar
Publisher: The Hebrew University Magnes Press
Price: $31.25
Special Price: $22.80
Buy from Gefen for this special price!
Format:
Paperback
ISBN 10:
9654935643
ISBN 13:
9789654935647
Catalog Number:
9789654935647
Number of Pages:
164
Year Published:
2011
Description:
The prominent historian Karl Bosl, who during World War II had been a high school teacher in Ansbach, Franconia, intimated that he had been critical of the Nazis and asserted that he had belonged to a small group that engaged in active resistance; one of its members, Robert Limpert, was apprehended by the Nazis and brutally put to death just hours before the Americans arrived. The present study, based on a large number of unpublished official and private documents, records Boslís manifold links to the Nazi regime and reveals that as late as December 1944 he delivered a stirring lecture before Ansbachís Nazi leadership in which he extolled the struggle for the preservation of Hitlerís Greater German Reich; yet as early as September 1945 he vigorously condemned Nazism at a ceremony at Limpertís grave. The documents attest also to how Bosl succeeded in persuading Ansbachís Denazification Tribunal that he had risked his life opposing the Nazis. An unpublished account allows for a detailed reconstruction of the daring, little-known activities of young Limpert and his three classmates.