HOME
|
The Official Gefen Publishing House Website -
One Stop Webstore for Jewish Books and Hebrew Studies Textbooks From Israel
|
Join Email
List
|
Contact
us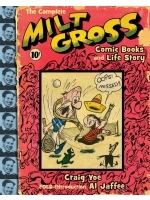 The Complete Milt Gross Comic Books and Life Story
Author:
Milt Gross (Author and Illustrator)
Price: $39.99
Buy from Gefen for this special price!
Format:
Hard Cover
ISBN 13:
9781600105463
Catalog Number:
9781600105463
Year Published:
2009
Description:
This beautifully designed book collects the complete comic book stories of comic genius
Milt Gross
, culled from rare, impossible to track down comic books of the '40s, which have been lovingly restored. Milt Gross was a cartooning genius who was championed by Art Spiegelman in Raw and Dan Nadel in Art Out of Time. Gross wrote and drew what many consider to be the first graphic novel, He Done Her Wrong, and was a popular comic stripper (with hilarious cartoon-style Yiddish-isms), animator, and screenplay writer (co-writer of films with
Charlie Chaplin
). This thick, full-color, 368-page hardback tome, in addition to exhuming every one of Gross' wild and crazy comic book stories, shares rare photos, sketches, and unpublished art, including the previously unknown cover to the Milt Gross Funnies #3!
Edited by
Craig Yoe
, with a FOLD-INtroduction by
Al Jaffe
.