HOME
|
The Official Gefen Publishing House Website -
One Stop Webstore for Jewish Books and Hebrew Studies Textbooks From Israel
|
Join Email
List
|
Contact
us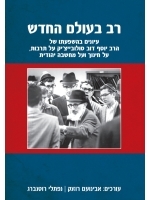 New Book On Rabbi Soloveitchik
Rabbi in the New World (Hebrew)
The Influence of Rabbi J. B. Soloveitchik on Culture, Education and Jewish Thought
Authors:
Avinoam Rosenak
Naftali Rothenberg
Publisher: The Hebrew University Magnes Press
Price: $49.16
Special Price: $40.00
Buy from Gefen for this special price!
Format:
Paperback
ISBN 10:
9654935171
ISBN 13:
9789654935173
Catalog Number:
9789654935173
Number of Pages:
556
Year Published:
2011
Description:
Rabbi J.B Soloveitchik (1903-1993) was the preeminent leader of Modern Orthodoxy in the United States for nearly 50 years. His prominence in American Orthodox life was based upon his expertise in Torah and Western intellectual culture, his extraordinary pedagogical and rhetorical skills and his halakhic authority. As the head of the World Mizrachi, he also played an influential role on religious Zionism in Israel. Rabbi in the New World: The Influence of Rabbi J.B.Soloveitchik on Culture, Education and Jewish Thought, explores the extent of Rabbi Joseph Soloveitchik's leadership in shaping the Orthodox communities in the United States and analyzes the characteristics and multiple domains of his influence. The book examines the question of whether Rabbi Soloveitchik's leadership is best understood as limited to American Orthodoxy or whether his influence exceeded those boundaries. The essays in the book probe which of his students most closely reflect his religious philosophy, whether his vision was sufficiently flexible to meet the challenges of the present and the future, and whether Rabbi Soloveitchik was open to inter-religious dialogue. The book contains twenty-six articles by scholars in history, sociology, education, theology and philosophy, all of whom evaluate Rabbi Soloveitchik's works and the era in which he was active.