HOME
|
The Official Gefen Publishing House Website -
One Stop Webstore for Jewish Books and Hebrew Studies Textbooks From Israel
|
Join Email
List
|
Contact
us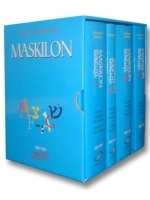 Maskilon Complete 4 Volume Boxed Set

Learnerís Kit For the Study of Hebrew
Authors:
David Morrison
Abraham Solomonick
Publisher: Gefen Publishing House
Price: $89.00
Special Price: $84.50
Buy from Gefen for this special price!
Format:
Hard Cover
ISBN 10:
9652293210
ISBN 13:
9789652293213
Catalog Number:
321-0 / g321
Number of Pages:
500
Year Published:
2003
Description:
The Maskilon series constitutes a comprehensive teaching kit for those venturing into the exciting effort of studying Hebrew.
Maskilon I: Dictionary with Verb Roots - Contains verb roots together with their English translations, Maskilon includes commonly used derivatives that help the Hebrew student reach a deeper and more contextual understanding of Hebrew. ISBN 965-229-272-9
Maskilon II: Practical Hebrew Grammar - For beginning and intermediate Hebrew students, this is a straightforward, non-technical guide to grammar that is indispensable for everyday speaking, reading and writing. Complete with useful exercises, vowels and pronunciation. ISBN 965-229-273-7
Maskilon III: Practical Hebrew Grammar - Contains a list of Hebrew abbreviations and idioms, with their English translations. The grammar table and root descriptions of Hebrew verbs are useful tools for beginning Hebrew and English students. ISBN 965-229-274-5
Maskilon IV: English-Hebrew Learners Dictionary - Includes those words that are important during the early stages of learning the Hebrew language, specially presented in a way that connects them to other Hebrew words and reveals their potential from a grammatical point of view. ISBN 965-229-312-1
Sold individually and as a set ISBN 965-229-321-0.