HOME
|
The Official Gefen Publishing House Website -
One Stop Webstore for Jewish Books and Hebrew Studies Textbooks From Israel
|
Join Email
List
|
Contact
us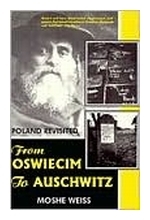 From Oswiecm to Auschwitz
Author:
Moshe Weiss
Publisher: Moshe Weiss
Price: $15.00
Special Price: $12.00
Buy from Gefen for this special price!
Format:
Paperback
ISBN 10:
9652296007
ISBN 13:
9789652296009
Catalog Number:
9789652296009
Description:
This is Rabbi Moshe Weiss' journey to post-Auschwitz Poland,a first hand account, learn about Jewish dreams, hopes and prayers that turned into ashes in Oswiecim, Majdanek and Treblinka. Hear stories about Hasidic miracles and Jewish Faith, as well as the shoking true story about a Jew, Monik Marion, who allegedly worked for Himmler. During the authors' pilgrimage he went looking for Jews but found antisemites. Warsaw, Krakow, Lodz, Lublin,Prezemysl: what remained of a community of three million souls? Some cemeteries, a handful of survivors, many memories and infinite sadness.