HOME
|
The Official Gefen Publishing House Website -
One Stop Webstore for Jewish Books and Hebrew Studies Textbooks From Israel
|
Join Email
List
|
Contact
us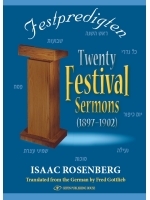 Twenty Festival Sermons (1897-1902)
Festpredigten
Authors:
Fred Gottlieb (translator)
Isaac Rosenberg
Publisher: Gefen Publishing House
Price: $18.95
Special Price: $18.20
Buy from Gefen for this special price!
Format:
Hard Cover
ISBN 10:
9652295388
ISBN 13:
9789652295385
Catalog Number:
9789652295385
Number of Pages:
160
Year Published:
2011
Description:
In the year 1897, Isaac Rosenberg accepted the pulpit of a synagogue in the East German town of Thorn. He was one of a new class of rabbis at the turn of the century known as "Rabbiner Doktor" – with Ph.D. degrees as well as rabbinical ordination. Well ensconced as a leader in his community, Rabbi Rosenberg delivered passionate sermons to his congregants on the occasion of Jewish festivals – sermons that uplifted rather than scolded, that inspired a community of Jews whose religious observance was waning with love for their families and pride in Judaism's contributions to the world.