HOME
|
The Official Gefen Publishing House Website -
One Stop Webstore for Jewish Books and Hebrew Studies Textbooks From Israel
|
Join Email
List
|
Contact
us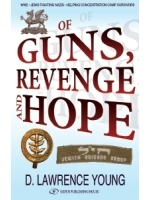 Of Guns, Revenge and Hope
Author:
David Lawrence -Young
Publisher: Gefen Publishing House
Price: $12.95
Special Price: $12.10
Buy from Gefen for this special price!
Format:
Paperback
ISBN 10:
9652295337
ISBN 13:
9789652295330
Catalog Number:
9789652295330
Number of Pages:
176
Year Published:
2011
Description:
This is the story of Benny – the son of David Levi, the central figure of Of Guns and Mules – and the five-year period he spent serving with the British army in World War II. Volunteering in the summer of 1940, Benny becomes a driver in a Jewish-Palestinian unit and sees active service in Egypt and North Africa. After taking part in the defeat of Rommel's Afrika Corps, he is sent to Italy via Malta. There he undergoes combat training and, as a fighter in the newly formed Jewish Brigade, participates in the Allies' final push against the Nazis. He also takes part in the unofficial "revenge squads" that hunt down and kill escaping SS officers. During the war Benny meets and falls in love with Tamar and also learns about the plight of Jews who were killed in the Holocaust. When not on duty, and with American support, Benny and his friends help those who survived the Holocaust, rescuing many concentration camp survivors and helping them reach Mandatory Palestine. After the war is over, the Brigade is sent to Belgium. Here, Benny continues to help the Jewish survivors before returning to Tel Aviv to begin a new life with Tamar.