HOME
|
The Official Gefen Publishing House Website -
One Stop Webstore for Jewish Books and Hebrew Studies Textbooks From Israel
|
Join Email
List
|
Contact
us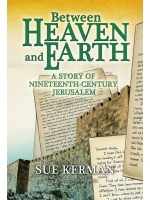 Between Heaven and Earth
A Story of Nineteenth-Century Jerusalem
Author:
Sue Kerman
Publisher: Gefen Publishing House
Price: $14.95
Special Price: $12.95
Buy from Gefen for this special price!
Format:
Paperback
ISBN 10:
9652295167
ISBN 13:
9789652295163
Catalog Number:
9789652295163
Number of Pages:
196
Year Published:
2011
Description:
Over one hundred years ago, one woman decided to change her life...
When Zara Rubens is suddenly widowed, she decides to take control of her life and visit Palestine. Zara creates a new life for herself in nineteenth-century Jerusalem. She becomes acquainted with such legendary figures as British Consul James Finn and his fascinating wife Elizabeth, Reverend Conrad Schick, and the renowned painter William Holman-Hunt. As a writer for the nascent New York Times, Zara becomes embroiled in a precarious situation at the Russian Compound – with surprising discoveries.
Over a century later, New York museum curator Rebecca Silver inherits her great-aunt's diaries. She becomes fascinated by Zara's activities. But as she delves into Zara's life, she discovers that there was more to her aunt than meets the eye – and more to Rebecca herself, if she is willing to search within.
An historical novel of mystery, intrigue…and discovery