HOME
|
The Official Gefen Publishing House Website -
One Stop Webstore for Jewish Books and Hebrew Studies Textbooks From Israel
|
Join Email
List
|
Contact
us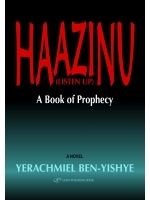 Haazinu (Listen Up)
A Book of Prophecy
Author:
Yerachmiel ben-Yishye
Publisher: Gefen Publishing House
Price: $24.95
Special Price: $20.00
Buy from Gefen for this special price!
Format:
Hard Cover
ISBN 10:
9652295345
ISBN 13:
9789652295347
Catalog Number:
534-7
Number of Pages:
278
Year Published:
2011
Description:
It started with a group therapy session.
It grew into a journey for the truth and a quest to find the answer to an ancient Hebrew riddle…
Dr. Caleb Call, a pediatric oncologist, was a newcomer to the group of friends and relatives of terminally-ill patients at the medical center. Led by a psychiatric social worker with his own shady past, the members of the group share their intensely intimate stories of their relationships with the dying patients, stories of love, despair, and hope. In their search for the answer to the question of why bad things happen to innocent people, they discover an ancient Hebrew riddle that sparks their journey for the truth – a journey that takes them to the Caribbean in search of an answer. A surprise ending compels the reader to realize that nothing in the stories is as it seems, and that the answer to their quest could bring health, peace, and prosperity to the world.