HOME
|
The Official Gefen Publishing House Website -
One Stop Webstore for Jewish Books and Hebrew Studies Textbooks From Israel
|
Join Email
List
|
Contact
us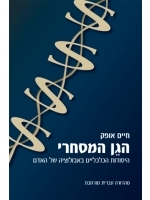 Second Nature (Hebrew)
Hagen Hamischari. Economic Origins of Human Evolution
Author:
Haim Ofek
Publisher: The Hebrew University Magnes Press
Price: $31.33
Special Price: $25.00
Buy from Gefen for this special price!
Format:
Paperback
ISBN 10:
9654933667
ISBN 13:
9789654933667
Catalog Number:
9789654933667
Number of Pages:
282
Year Published:
2010
Description:
From the Critics:
...the boldness, coherence, and sweep of the book are impressive...Ofek has good and highly persuasive ideas about his main concern, which is the importance and centrality of economic analysis from an early point in human evolution...Second Nature is an exhilarating and interesting read that raises powerful questions about how humans got here and how we should be studied.
Alan Grafen (Professor of Biological Sciences, Oxford University)
"This is without a doubt one of the most important books to be published in the field of socio-economics in recent years. Ofek has done a superb job in linking what he calls Bioeconomics with Paleoeconomics to explain the transition from Homo Erectus to Homo Sapiens . . . . Briefly put, any reader would benefit from the wealth of new ideas that virtually jump out from almost each and every page."
Warren Young (Professor of Economics, Bar Ilan University)
Ofek sythesizes an enourmous range of research on human origins to advance to key role of exchange of goods and services in the evolution of distinctively human species.... This superb book seems poised to be a touchstone for work in prehistory and human origins for the forseeable future; essential for all academic libraries; highly recommended for others.
D. Bantz (University of Alaska)
Ofek`s book is in fact remarkable because it gives interesting, exhausting and insightful answers to old problems and, at the same time, it provides a new way to approach human evolution from the economic viewpoint.
Joao Ricardo Faria (Professor of Economics, University of Texas)
"Altogether this is a stimulating and well-done book. It's even written better than most books involving either biology or anthropology. It seems to me that it should be the beginning of a major revamping of our views of the early history of our ancestors. Its interest to economists is of course particularly great, but I would hope that biologists and anthropologists will find it equally stimulating."
Gordon Tullock (economics and law professor at George Mason University)