HOME
|
The Official Gefen Publishing House Website -
One Stop Webstore for Jewish Books and Hebrew Studies Textbooks From Israel
|
Join Email
List
|
Contact
us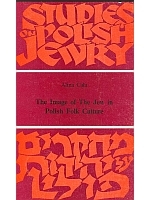 The Image of the Jew in Polish Folk Culture
Author:
Alina Cala
Publisher: The Hebrew University Magnes Press
Price: $22.00
Buy from Gefen for this special price!
Format:
Paperback
ISBN 10:
9652239003
ISBN 13:
9789652239006
Catalog Number:
9789652239006
Number of Pages:
236
Year Published:
1995
Description:
The subject in the title of this book has not been taken up too often. Polish historiography and ethnography have avoided delving into the problems of Polish-Jewish relations, probably because it was (and still is) an emotional subject, painful for some and irritating to others. The last half-century has not afforded many opportunities for a dispassionate exchange of opinions as the last war brought about the extermination of the Polish Jews and put an end to the discussion once and for all. The history of the towns and economy of Poland cannot be written without discussing the activities of Jews. Closely connected with this problem is the question of the Jew's place in the social hierarchy and consequently – mutual attitudes.
This study is an attempt to present the picture of intergroup contacts as it has been preserved in people's memory. It is also an effort to reconstruct the model of behaviors towards a community seen as alien.