HOME
|
The Official Gefen Publishing House Website -
One Stop Webstore for Jewish Books and Hebrew Studies Textbooks From Israel
|
Join Email
List
|
Contact
us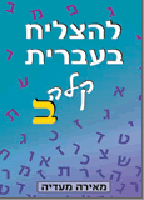 To Succeed in Basic Hebrew Bet With English Instructions
Lehatzliach Be-ivrit Kala Beit
Author:
Meira Maadia
Price: $56.00
Special Price: $30.00
Buy from Gefen for this special price!
Format:
Paperback
ISBN 10:
9657493080
ISBN 13:
9789657493083
Catalog Number:
g308a /D-777-2
Number of Pages:
264
Description:
The book To Succeed in Basic Hebrew - Bet Accompanied by English Instructions - is intended for advanced students of Hebrew in elementary schools, junior high schools and universities in Israel and abroad.This book serves as a direct continuation of To Succeed in Basic Hebrew - Aleph. It includes a review of the material learned and methodical instruction of the language on a more advanced level. The book contains fifteen lessons that expose the students to interesting reading passages, conversations, songs and expressions, as well as a large assortment of language exercises built up in a gradual manner from easier to more difficult. This all assits the student to recognize the syntax and lingual structures of the language. The numerous drawings and illustrations in the book make learning Hebrew more interesting and visual; they arouse motivation in the students and cause them enjoyment. The lingual subjects and the instructions have been translated into English. This translation is essential for English speakers at their onset acquiring the new language.