HOME
|
The Official Gefen Publishing House Website -
One Stop Webstore for Jewish Books and Hebrew Studies Textbooks From Israel
|
Join Email
List
|
Contact
us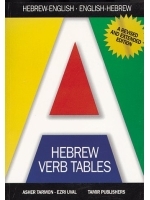 Price in Israel NIS 90
Hebrew Verb Tables
Hebrew-English and English-Hebrew Verb Index
Authors:
Asher Tarmon
Ezri Uval
Price: $50.00
Special Price: $40.00
Buy from Gefen for this special price!
Format:
Paperback
ISBN 10:
9653760106
ISBN 13:
978-9653760103
Catalog Number:
D-241/ g010
Number of Pages:
254
Year Published:
1991
Description:
This book will provide the Hebrew student with every possible verb combination making verb translation much easier.
A classic for twenty years, now this updated edition includes Hebrew verbs in current usage, 235 tables, and a comprehensive index.
This book is a neatly organized verb index to strengthen my vocabulary. Slim, thorough and probably contains every verb you will ever need to know.
Includes Hebrew-English and English-Hebrew Verb Index arranged alphabetically with prepositions