HOME
|
The Official Gefen Publishing House Website -
One Stop Webstore for Jewish Books and Hebrew Studies Textbooks From Israel
|
Join Email
List
|
Contact
us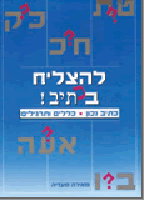 To Succeed in Hebrew Spelling Hebrew
Rules and Practice
Author:
Meira Maadia
Price: $42.00
Special Price: $32.00
Buy from Gefen for this special price!
Format:
Paperback
ISBN 10:
9657493102
ISBN 13:
9789657493106
Catalog Number:
9789657493106/D-777-10
Number of Pages:
188
Description:
The book To Succeed in Spelling Hebrew - Rules and Practice-is intended for Ulpan graduates, university students, junior and senior high school students and immigrants who are interested in writing without spelling mistakes. The book is suited both for self-learning as well as for learning in class. It presents an innovative and original method for learning spelling; a method that brings skillfulness in spelling and mastery of it. There are also relevant and concise rules and explanations and an assortment of exercises and entertaining activities. Spelling mistakes essentially stem from identical pronunciation of various consonants. The method of learning that has been developed helps the student distinguish between the various consonants and this in turn leads to proper spelling. The method is based upon phonological, morphological and semantic criteria. This book is an important contribution that brings benefit and enjoyment to many students and teachers.