HOME
|
The Official Gefen Publishing House Website -
One Stop Webstore for Jewish Books and Hebrew Studies Textbooks From Israel
|
Join Email
List
|
Contact
us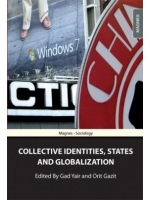 Collective Identities, States and Globalization
Essays in honor of S.N. Eisenstadt
Authors:
Orit Gazit
Gad Yair
Publisher: The Hebrew University Magnes Press
Price: $49.00
Special Price: $39.95
Buy from Gefen for this special price!
Format:
Paperback
ISBN 10:
965493499X
ISBN 13:
9789654934992
Catalog Number:
9789654934992
Number of Pages:
262
Year Published:
2010
Description:
The crashing of two jet airplanes into the Twin Towers in New York is vividly remembered by most people in the world today. Similar powerful images have come through videos of bombing in Kosovo, Moslem riots in Europe, brutal reprisals of protest in China, terrorist attacks in Israel, Kenya, Thailand, Turkey, Spain, India, Russia and England. These global events have challenged the beliefs of people in the Western world, and many have found themselves grappling with the perennial questions of modernity: Where is the world going? Are we attaining perpetual peace, or are we simply in the midst of 'perpetual war'? How can we come to terms with seemingly opposing historical shifts, one pointing toward a globalizing and integrated world, the other toward tribalism and balkanization? This book celebrates S.N Eisenstaedt`s works in sociology while addressing these questions. It brings together highly qualified and esteemed scholars to revisit the questions above in a nuanced, comparative, and empirically supported manner.