HOME
|
The Official Gefen Publishing House Website -
One Stop Webstore for Jewish Books and Hebrew Studies Textbooks From Israel
|
Join Email
List
|
Contact
us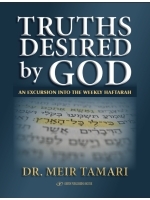 Truths Desired by God
An Excursion into the Weekly Haftarah
Author:
Meir Tamari
Price: $29.95
Special Price: $28.15
Buy from Gefen for this special price!
Format:
Hard Cover
ISBN 10:
9652294519
ISBN 13:
9789652294517
Catalog Number:
9789652294517
Number of Pages:
256
Year Published:
2010
Description:
With the mounting interest in traditional Jewish texts, classes abound in Chumash, Talmud, Tehillim, and the Megillot. Yet the books of Nevi'im – through which a major part of Judaism's special message is transmitted – have been largely overlooked. Using the weekly haftarah as his entry, renowned author Dr. Meir Tamari tackles this challenge, offering original insights and bringing together commentatorsfrom the span of Jewish history.