HOME
|
The Official Gefen Publishing House Website -
One Stop Webstore for Jewish Books and Hebrew Studies Textbooks From Israel
|
Join Email
List
|
Contact
us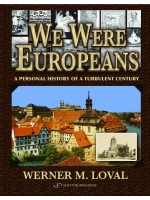 The Experiences of a Family Scattered Across Globe
We Were Europeans
A Personal History of a Turbulent Century
Author:
Werner Loval
Publisher: Gefen Publishing House
Price: $39.95
Buy from Gefen for this special price!
Format:
Hard Cover
ISBN 10:
9652295221
ISBN 13:
9789652295224
Catalog Number:
9789652295224
Number of Pages:
512
Year Published:
2010
Description:
We Were Europeans vividly captures the experiences of a prominent Jewish family as the events of the twentieth century overturned their settled existence and scattered them across the globe.
From a fully emancipated, comfortable life in pre-Hitler Germany to the horror of Kristallnacht, the book describes a last-minute escape from the Holocaust by the children on the Kindertransport and by the parents via Siberia, followed by life on three continents. Included are excerpts from several historical diaries, including a personal diary written on the German front lines during World War I; a young girlís diary begun in Germany by the authorís sister in the 1930s, continued in England and ending in colorful Ecuador where the family found temporary refuge; and extracts from a diary kept by the head of the Jewish community of Bamberg. Lavishly illustrated with photographs and maps, this personal history of triumph despite persecution is a microcosm of the fate of the Jewish people.