HOME
|
The Official Gefen Publishing House Website -
One Stop Webstore for Jewish Books and Hebrew Studies Textbooks From Israel
|
Join Email
List
|
Contact
us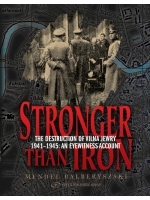 chronicle of life in the two Vilna ghettos
Stronger than Iron
The Destruction of Vilna Jewry 1941–1945: An Eyewitness Account
Author:
Mendel Balberyszski
Publisher: Gefen Publishing House
Price: $29.95
Special Price: $25.45
Buy from Gefen for this special price!
Format:
Hard Cover
ISBN 10:
9652294853
ISBN 13:
9789652294852
Catalog Number:
g485 / 485-2
Number of Pages:
372
Year Published:
2010
Description:
This eyewitness account details the destruction of Vilna Jewry at the hands of the Nazis. Its chronicle of life in the two Vilna ghettos is the only historical document describing life in the small ghetto from its formation until its liquidation. The book is a historical document of primary importance. It is also an expression of the innermost thoughts and feelings of a single individual whose will to survive and to bring this story to the judgment of future generations was stronger than iron.
Reviews:

Mendel Balberyszski's book is one of the most important sources for the history of destruction and resistance and a most impressive monument for the "Jerusalem of Lithuania" during the storm of carnage and barbarism that wiped out one of the most influential Jewish centers in the world – a center with seventy-five thousand Jews and priceless cultural treasures.

Dr. Joseph Kermish, z"l
Yad Vashem