HOME
|
The Official Gefen Publishing House Website -
One Stop Webstore for Jewish Books and Hebrew Studies Textbooks From Israel
|
Join Email
List
|
Contact
us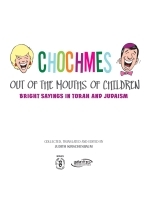 Like Reality TV, but Jewish and Clean!
Chochmes Out of the Mouths of Children
Bright Sayings in Torah and Judaism
Author:
Judith Kirshenbaum
Price: $15.95
Special Price: $14.10
Buy from Gefen for this special price!
Format:
Hard Cover
ISBN 10:
9650902880
ISBN 13:
9789650902889
Catalog Number:
9789650902889
Number of Pages:
64
Year Published:
2010
Description:
The Hebrew Yiddish word for wisdom is Chochmah. Additionally, this word carries the connotation of a Bright Saying, especially of a child. We have here a unique collection of Chochmes, clever observations, witty remarks and provocative questions out of the mouths of children all revolving around Torah and Judaism. As an Introduction, many chochmes of great rabbis uttered in their childhood have been recorded.