HOME
|
The Official Gefen Publishing House Website -
One Stop Webstore for Jewish Books and Hebrew Studies Textbooks From Israel
|
Join Email
List
|
Contact
us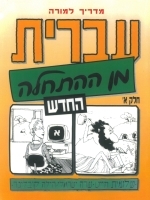 Hebrew from Scratch. Part I. Teacher's Manual
Ivrit min ha-hathala Chelek Alef - Teacher's Manual
Authors:
Sheli Shalosh Van Den Brook
Mira Shmueli
Price: $24.00
Special Price: $22.00
Buy from Gefen for this special price!
Format:
Paperback
ISBN 13:
0007500129811
Catalog Number:
D-404 / g207
Number of Pages:
90
Year Published:
2003
Description:
This is the teacher's manual for part 1 of Hebrew from Scratch, Ivrit Min Hahatchala. This valuable tool provides chapter by chapter and lesson by lesson comments on the instructional material provided in the student's volume and makes practical suggestions to assist the teacher in implementing the unique Hebrew in Hebrew methodology of Hebrew from Scratch.