HOME
|
The Official Gefen Publishing House Website -
One Stop Webstore for Jewish Books and Hebrew Studies Textbooks From Israel
|
Join Email
List
|
Contact
us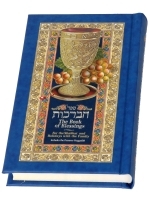 The Book of Blessings For the Sabbath and Holidays Hebrew - English Blue Pocket Size
Includes a Passover Haggadah
Author:
Raymond Cintas
Price: $29.95
Special Price: $28.00
Buy from Gefen for this special price!
Format:
Hard Cover
ISBN 10:
9657309247
ISBN 13:
9789657309247
Catalog Number:
9789657309247
Number of Pages:
266
Year Published:
2010
Description:
This is the blue pocket-size edition The Book of Blessings. The Book of Blessings contains answers to key questions and Includes the Passover Haggadah. This book, intended for the entire family, features an array of blessings, dedications, prayers, and hymns for the Sabbath and holidays. The book is divided into separate sections, from the Sabbath to every holiday. Each section includes answers to integral questions of every type. The traditional text is accompanied by fascinating and beautiful illustrations, pictures, and works of art. Using unique techniques, we added metal embossing and imprinting between the very leaves of the book, along with a wealth of gold print and lacquer finishing.