HOME
|
The Official Gefen Publishing House Website -
One Stop Webstore for Jewish Books and Hebrew Studies Textbooks From Israel
|
Join Email
List
|
Contact
us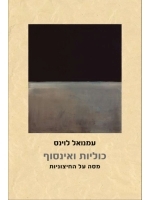 Totalité et Infini (Hebrew)
Authors:
Joelle Hansel (Editor)
Emmanuel Levinas
Price: $30.00
Special Price: $26.20
Buy from Gefen for this special price!
ISBN 10:
9654934973
ISBN 13:
9789654934978
Number of Pages:
270
Year Published:
2010
Description:
Totalité et Infini, Totality and Infinity is Emmanuel Levinas's masterpiece and a major philosophical work in the twentieth century. There, Levinas defines a new meaning of ethics: the happy life of the isolated, egoist I, is challenged by the encounter with the Other. The philosophical description of this experience, of this "revelation" of Alterity, is the main goal of Levinas' analyses, in which the key word is the 'face' of the other human. Levinas conducts a critical examination of the Western philosophical tradition: Plato, Descartes, Hegel, Bergson, Rosenzweig, Buber, Husserl, and Heidegger. The publication of Totality and Infinity`s Hebrew translation is a significant contribution to the reception of Levinas in Israel, both in academic circles and for broader audiences.