HOME
|
The Official Gefen Publishing House Website -
One Stop Webstore for Jewish Books and Hebrew Studies Textbooks From Israel
|
Join Email
List
|
Contact
us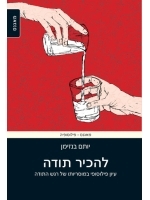 Thinking About Thanking (Hebrew)
Lehakir Todah
Author:
Yotam Benziman
Publisher: The Hebrew University Magnes Press
Price: $20.00
Special Price: $17.95
Buy from Gefen for this special price!
Format:
Paperback
ISBN 10:
9654934256
ISBN 13:
9789654934251
Catalog Number:
9789654934251
Number of Pages:
140
Year Published:
2009
Description:
This book deals with being grateful and with the moral status of gratitude. It claims that gratitude is a moral obligation of great importance, being the right response to something done for the agent and out of regard for her. The more is done for her, the more grateful she should be. And yet, it seems that whoever is doing something out of regard for us is expecting nothing in return. Gratitude thus becomes a paradoxical obligation: the recipient of the favor owes something to the giver, which the giver does not want.
Sometimes the recipient does not want it either. He is attached to it unwillingly, trying to rid himself of it if he only could. Can he? And how are his attempts to do so connected to being ungrateful? This book analyses such cases, and juxtaposes them with cases of full and happy gratitude. I claim that children`s gratitude towards their parents is the paradigm case of full gratitude. But how can children show their gratitude? What should they do? Can one really do enough to thank another for upbringing one and shaping her into who she is?
This is a philosophical book, presenting and criticizing philosophical analyses of gratitude, from Seneca to Kant, and from Kant to modern thinkers. But among its heroes you will also find Dickens`s Pip of Great Expectations, Rabi Hia, Rabi and a Koves (washer) from the Talmud, key figures of psychological and sociological thinking, Jean Valjean and Javert of Hugo`s Les Miserables, and a construction and development company selling shares at the stock exchange.