HOME
|
The Official Gefen Publishing House Website -
One Stop Webstore for Jewish Books and Hebrew Studies Textbooks From Israel
|
Join Email
List
|
Contact
us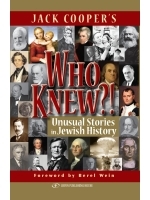 Unknown Facts Paint A True Image of Jewish History
Who Knew?!
Unusual Stories in Jewish History
Authors:
Jack Cooper
Berel Wein (forward)
Price: $21.95
Special Price: $19.50
Buy from Gefen for this special price!
Format:
Hard Cover
ISBN 10:
9652294764
ISBN 13:
9789652294760
Catalog Number:
9789652294760
Number of Pages:
256
Year Published:
2010
Description:
Did you know that the great Jewish sage and physician Maimonides practiced medicine while lying flat on his back? That a famous passage penned by George Washington was actually the work of a rabbi? That a Jewish athlete represented Nazi Germany in its infamous 1936 Olympic Games? That Yasser Arafat was made by the KGB? These and many more such intriguing stories make up Jack Cooper's fascinating collection of historical windows on the life of the Jews. Covering biblical times through to today, these unusual vignettes on the sidelines of history come together to form a story that is anything but a sideline, depicting a resourceful people who have survived and thrived despite the worst history has thrown at them. Whether you read it straight through, or pick out individual stories to read as the mood strikes, you're in for a captivating read!
Reviews:
This fascinating book by Jack Cooper points out to the reader the lesson that history is made by people, their heroism, foibles, vision and pettiness…. This book deals mainly with the wondrous story of the Jewish people and of its events. It contains hundreds of facts and anecdotes, some tragic, some hilarious, some fateful and some seemingly unimportant if yet fascinating, that have helped make up the story of the Jews in world history. These facts are the pepper and spice that enliven the story of history…. "Throughout history, Jews have had to live by their wits and perseverance, almost always being engulfed in a very hostile environment. These stories point out to the reader the many different mechanisms used by Jews to survive and even attempt to prosper.… After reading this book the reader will have a different view and understanding of Jewish history and its twists and turns over the ages. The book combines entertaining reading, fascinating detail, and a sense of awe and inspiration regarding its subject matter. Enjoy reading this book while it will at the same time make you a better-informed person about the Jewish story.
Rabbi Berel Wein, author, senior faculty member of Ohr Somayach Yeshiva, Jerusalem