HOME
|
The Official Gefen Publishing House Website -
One Stop Webstore for Jewish Books and Hebrew Studies Textbooks From Israel
|
Join Email
List
|
Contact
us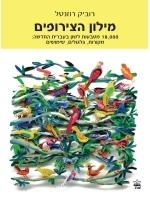 Dictionary of Hebrew Idioms and Phrases
Milon Hatzeirufim
Author:
Ruvik Rosenthal
Price: $72.00
Special Price: $58.00
Buy from Gefen for this special price!
ISBN 10:
9650717757
ISBN 13:
9789650717759
Catalog Number:
9789650717759
Number of Pages:
962
Year Published:
2009
Description:
The Dictionary of Hebrew Idioms and Phrases (Hebrew-Hebrew) is a unique reference tool. Known as Milon Hatzeirufim in Hebrew, this dictionary, is the first of its kind providing comprehensive coverage of modern Hebrew expressions taken from usage taken from the communications media, everyday speech and literature. It contains 18,000 expressions!