HOME
|
The Official Gefen Publishing House Website -
One Stop Webstore for Jewish Books and Hebrew Studies Textbooks From Israel
|
Join Email
List
|
Contact
us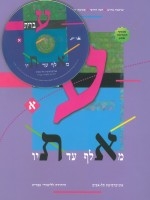 With CD, Heb-Eng and Hebrew-Russian glossaries
Hebrew From Alef to Tav Volume 1 with Audio CD
Ivrit Me-Alef Ad Tav Mahadura Chadasha
Authors:
Shoshana Brosh
Chana Harussi
Price: $42.00
Special Price: $28.00
Buy from Gefen for this special price!
ISBN 10:
9653061399
ISBN 13:
9789653061392
Catalog Number:
D-661-2 / g139n
Description:
Hebrew From Alef to Tav New Edition, also known by its transliterated Hebrew title Ivrit Me-Alef Ad Tav Mahadura Chadasha comes with an audio CD and is meant as a introductory program for Hebrew language acquisition. In 25 study units, this volume brings the student into contact with no less than 1,200 vocabulary words It contains both a Hebrew-English and Hebrew-Russian glossary for easy reference for students who speak those languages. Hebrew From Alef to Tav is a joint project of Hebrew instructors specializing in Hebrew as a second language, Hebrew as a foreign language. In addition to the teaching experience Hebrew From Alef to Tav contains the insights and techniques gained from the latest academic studies of Hebrew language acquisition.