HOME
|
The Official Gefen Publishing House Website -
One Stop Webstore for Jewish Books and Hebrew Studies Textbooks From Israel
|
Join Email
List
|
Contact
us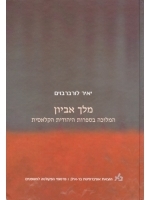 Subordinated King (Hebrew)
Melech Evyon. Kingship in Classical Jewish Literature
Author:
Yair Lorberbaum.
Price: $28.00
Special Price: $20.00
Buy from Gefen for this special price!
Format:
Hard Cover
ISBN 10:
9652263494
ISBN 13:
9789652263490
Catalog Number:
9789652263490
Number of Pages:
230
Year Published:
2009
Description:
Subordinated King (Melekh Evyon in Hebrew) studies the conception of kingship, and its status, powers and authority in Talmudic literature. The book deals with the conception of Kingship against the background of the different approaches to kingship both in Biblical literature and in the political views prevalent in the Roman Empire.
In the bible one finds three (exclusive) approaches to kingship: rejection of the king as a legitimate political institution - since God is the (political) king; a version of royal theology according to which the king is divine (or sacral); and a view that God is not a political king yet the king has no divine or sacral dimension. The king is flesh and blood; hence his authority and power are limited. He is a Subordinated King. While the first conception in its day to day realization is close to anarchy, according to the second conception the king holds all the powers – in foreign and domestic affairs, in the law, economy, administration, army, and especially in the religious and the ceremonial realms. In contrast, the third conception subscribes to the principle of separation of powers: between the King, and the high court (Sanhedrin, bet ha-din ha-gadol), the priests and the prophets.
The sages of the Mishnah and Talmud were well aware of these three conceptions. In the legal-halakhic parts of the Talmudic literature (Mishnah, Tosefta, parts of the halakhic midrash, and the halakhic discussions in the Babylonian and Palestinian Talmuds) the Sages followed the third conception of kingship, restructuring it according to their theological and socio-political views. When compared to the theological-political views common in the ancient near east and in late antiquity the political model designed by the Talmudic sages is a genuine innovation. Nonetheless, there are in the aggadic (non-halakhic) parts of the Talmudic literature echoes of the other two biblical conceptions of kingship, which undermine the conception that constitutes the halakhic sources.