HOME
|
The Official Gefen Publishing House Website -
One Stop Webstore for Jewish Books and Hebrew Studies Textbooks From Israel
|
Join Email
List
|
Contact
us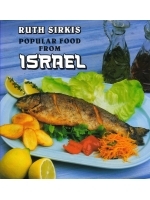 Popular Food From Israel

Author:
Ruth Sirkis
Price: $9.95
Special Price: $8.70
Buy from Gefen for this special price!
Format:
Paperback
ISBN 10:
965387070X
Catalog Number:
965387070X
Number of Pages:
96
Year Published:
2004
Description:
Popular Food from Israel is a functional guide that can be used while visiting Israel, as it presents and explains the various streets and small restaurants that the country has to offer. It also makes for a delightful souvenir, which provides the master chef to amateur cook, the ability to reproduce tasty Israeli dishes in the privacy of one's home. Each dish in Popular Food from Israel is presented in descriptive full color photos, in addition to several pictures of popular Israeli tour sights.
.
For the past 30 years various editions of Popular Food from Israel was sold continuously in the souvenir bookshops of Israelís Airports and Seaports, major hotels and tourist areas. This popular cook book is also available in 5 other Languages: English, French, German, Russian and Japanese. Due to its compact size, and modest cost, Popular Food from Israel is used as a treasured gift by many Israelies, individuals as well as companies and organizations. In the past it was used for fund raising purposes.
Popular Food from Israel was written in Los Angeles, while the authorís husband served as an Israeli Diplomat. Sirkis was frequently asked how to prepare Israeli dishes in LA by her peers and this book does just that, instructing the reader how to produce Israeli delicacies in the privacy of their own home.