HOME
|
The Official Gefen Publishing House Website -
One Stop Webstore for Jewish Books and Hebrew Studies Textbooks From Israel
|
Join Email
List
|
Contact
us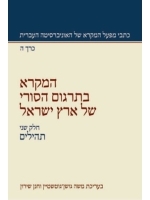 The Bible in the Syropalestinian Version Part 2, Psalms (Hebrew)
Hebrew Bible Project Volume 5
Author:
Moshe Goshen-Gottstein
Publisher: The Hebrew University Magnes Press
Price: $26.00
Special Price: $24.00
Buy from Gefen for this special price!
Format:
Hard Cover
ISBN 10:
9654933780
ISBN 13:
9789654933780
Catalog Number:
9789654933780
Number of Pages:
92
Year Published:
2009
Description:
This volume, now laid in front of the reader, completes a project started by the late professor Moshe Geshen-Gotstein over fifty years ago: The publishing of a scientific edition of the translation of the Bible into Palestinian-Syriac, based upon a renewed reading of its relics. Professor Goshen wished to produce an edition which will be able to serve both the scholars researching the Greek tradition – the translation to Palestinian-Syriac was made according to the Septuaginta – as well as the scholars of the various Assyrian dialects.
The first part of the edition was initially published in 1973. The material for the second part was processed many years ago by Professor Goshen and his assistant, the late Hanan Shiron, yet owing to different circumstances was never published. The developments which occurred on the subject since then, have made it necessary to alter the original writings of Professor Goshen. After consulting with Professor Moshe Bar-Asher it was decided to publish the volume at its present form.