HOME
|
The Official Gefen Publishing House Website -
One Stop Webstore for Jewish Books and Hebrew Studies Textbooks From Israel
|
Join Email
List
|
Contact
us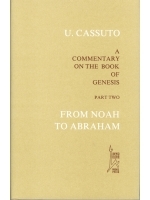 A Commentary on the Book of Genesis Part 1 From Adam to Noah
Author:
Umberto Cassuto
Publisher: The Hebrew University Magnes Press
Price: $50.00
Special Price: $44.00
Buy from Gefen for this special price!
Format:
Paperback
ISBN 10:
965223480X
ISBN 13:
9789652234803
Catalog Number:
965223480X
Number of Pages:
342
Year Published:
2009
Description:
The aim of this commentary is to explain, with the help of an historico-philological method of interpretation, the simple meaning of the Biblical text, and to arrive, as nearly as possible, at the sense that the words of the Torah were intended to have for the reader at the time they were written.
Reviews:
This is one of the great masterpieces of Jewish Bible scholarship. Cassuto is thoroughly original and always illuminating. The opening part of Genesis is among the most difficult and misinterpreted sections of the Bible; Cassuto is a sure guide, explaining difficulties and resolving apparent discrepancies. He is a firm opponent of the Documentary Hypothesis, rebutting its arguments comprehensively. On the other hand, he never falls into the trap of slavish fundamentalist interpretation. It is a tragedy that Cassuto's commentaries only cover Exodus and part of Genesis, but for the limited area they cover they are essential reading.