HOME
|
The Official Gefen Publishing House Website -
One Stop Webstore for Jewish Books and Hebrew Studies Textbooks From Israel
|
Join Email
List
|
Contact
us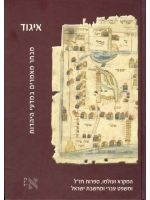 Iggud Selected Essays in Jewsih Studies (Articles in Hebrew and English)Iggud - Selected Essays in Jewish Studies, Vol. 1

The Bible and Its World, Rabbinic Literature and Jewish Thought
Authors:
Abraham Melamed (Editor)
Baruch J. Schwartz (Editor)
Aharon Shemesh (Editor)
Publisher: The Hebrew University Magnes Press
Price: $49.33
Special Price: $44.00
Buy from Gefen for this special price!
Format:
Hard Cover
ISBN 10:
9657418151
ISBN 13:
9789657418154
Catalog Number:
9789657418154
Number of Pages:
620
Year Published:
2009
Description:
Iggud: Selected Essays in Jewish Studies. Articles published in the Iggud Volumes will be based on the best lectures which were given in the World Congress for Jewish Studies held in Jerusalem once every 4 years, and these volumes will therefore replace the Proceedings of the World Congress of Jewish Studies which have been published thus far. I am certain that this upgrade in publication format will bring respect to the researchers and their research, a reverence they greatly deserve.
In the first volumes of Iggud were gathered articles based on lectures given on the 14th Congress held in August 2005. The current volume is dedicated to three subjects: The Bible and Its World, Rabbinic Literature, Jewish Law and Jewish Thought. In editing this volume I enjoyed the cooperation of two colleagues: Prof. Aharon Shemesh of Bar Ilan University and Prof. Avraham Melamed of Haifa University, to each his work and experience. In the Bible and Its World Section eleven articles are published in Hebrew and five in English. This large number reflects truthfully the strenuous development in researching Bible commentators and their methods, a subject which is again central in Biblical Science of this era. Beside articles in this field, appears a selection of articles about Bible Study itself with its various spheres, such as Biblical criticism and prophetic books, archeology and realism, and the various ways that Biblical Literature takes.
The Rabbinic Literature and Jewish Law section includes nine Articles in Hebrew and two in English. These studies span several branches of Talmud and Halakha, and show especially the expanding interest, these days, in the questions touching on the process of editing and forming of Rabbinic Literature. Further to these studies dealing with these aspects of the profession, appear discussions in issues of Halakha, Law and Talmudic tale history.
Eight articles in Hebrew and two in English are published in the Third section, which is dedicated to Jewish Thought. The studies are naturally divided into studies of contemplation and teachings of the philosophers themselves, through their writings together with the era they lived in and the elements influencing them on the one hand, and in these several studies comparing between the first and the last and studying the connection between them, and studying their methods of research on the other hand.