HOME
|
The Official Gefen Publishing House Website -
One Stop Webstore for Jewish Books and Hebrew Studies Textbooks From Israel
|
Join Email
List
|
Contact
us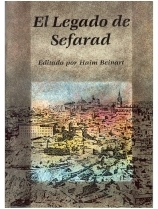 Moreshet Sepharad
The Sephardi Legacy Vol. II
Author:
Haim Beinart
Price: $86.80
Buy from Gefen for this special price!
ISBN 10:
9652238228
ISBN 13:
9789652238221
Catalog Number:
9652238228
Number of Pages:
482
Year Published:
1993
Description:
Moreshet Sepharad: The Sephardi Legacy sets out to summarize the monumental legacy of a Jewish community that resided within the historical boundaries of Spain for some fifteen hundred years.
Many chapters evaluate the contribution of Sephardi Jewry to the renaissance of Hebrew Language and science. These as well as many issues in Jewish communal life, have been analyzed and evaluated both in the context of Spain prior to the Expulsion and in the various settings where the exiles settled and formed new social patterns.
The thirty-eight chapters which make up the work provide guidelines which the student or interested reader may utilize to gain a deeper understanding of the essence of Sephardi Jewry in the basis of its glorious past and heritage.