HOME
|
The Official Gefen Publishing House Website -
One Stop Webstore for Jewish Books and Hebrew Studies Textbooks From Israel
|
Join Email
List
|
Contact
us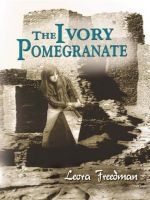 The Ivory Pomegranate

Author:
Leora Freedman
Publisher: Gefen Publishing House
Price: $16.95
Buy from Gefen for this special price!
Format:
Paperback
ISBN 10:
9652292699
Catalog Number:
269-9
Number of Pages:
288
Description:
Audrey Lindenthal, an archeologist and a Jew, beholds a vision of an ivory pomegranate - a rare treasure unearthed from an ancient archeological site in Israel. And so she begins a journey of self-discovery. Set in the dusty plains of Arizona, this original novel is a daring excavation of contemporary American Jewish life, melodically written and masterfully elaborated. The Ivory Pomegranate has received three publication awards, including an award from the President of the State of Israel.
Reviews:
"Freedman's depiction is both contemporary and convincing… her language and imagery are rich and imaginative… She illuminates the unique way in which each individual character's Jewish consciousness comes to reflect the larger layers of history that have formed the Jewish experience."
-
Professor Ziva Shamir
, Director, Katz Research Institute of Hebrew Literature, Tel Aviv University