HOME
|
The Official Gefen Publishing House Website -
One Stop Webstore for Jewish Books and Hebrew Studies Textbooks From Israel
|
Join Email
List
|
Contact
us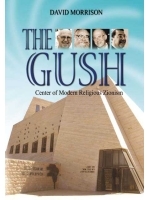 The Gush
Center of Modern Religious Zionism
Author:
David Morrison
Publisher: Gefen Publishing House
Price: $18.00
Special Price: $16.00
Buy from Gefen for this special price!
Format:
Hard Cover
ISBN 10:
9652293091
Catalog Number:
309-1
Number of Pages:
200
Year Published:
2004
Description:
During the Six Day War, Israel recaptured Gush Etzion, after it was in the hands of the Arabs since 1948. At the time, Moshe Moscovic, a charismatic and devoted Zionist leader, predicted that the Gush will transform into a center of Jewish learning.
Less than forty years later, the reality has surpassed the dream. The Gush Etzion region has been transformed into the capital of modern religious Zionism. Its yeshivot are headed by such Torah luminaries as Rav Yehuda Amital, Rav Aaron Lichtenstein, and Rav Shlomo Riskin. Graduates of yeshivot from Gush Etzion make up a disproportionately high percentage of fighting men in the elite units of theIsraeli Defense Forces.
What compelled these leaders of Torah to leave much more comfortable surroundings in order to settle the Judean Hills?
How did this region become the center of Torah study that it is today?
The Gush is the story of these inspiring historical developments.
David Morrison is the author of Heroes, Antiheroes and the Holocaust, Lies: Israelís Secret Service and the Rabin Murder (published in Hebrew and English), and co-author of the four-volume Hebrew dictionary set, Maskilon.
Reviews:
David Morrison's inspiring work on The Gush is a beautiful and stirring account of the development of a slice of contemporary Israel. As someone who truly believes that his soul is indelibly linked to Gush Etzion, I am most grateful to the author.
Undoubtedly, the towering hero of the story of The Gush is MOshe Moskovic, thanks to whom the Riskin family made their way to Efrat. The book proves that Israel today is a continuing expression of Theodor Herzl's adage If you will it, it will not merely be a dream.
- Rabbi Shlomo Riskin