HOME
|
The Official Gefen Publishing House Website -
One Stop Webstore for Jewish Books and Hebrew Studies Textbooks From Israel
|
Join Email
List
|
Contact
us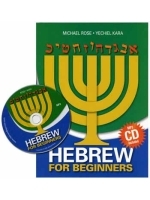 Hebrew For Beginners with CD MP3
Author:
Michael Rose
Price: $64.00
Special Price: $48.00
Buy from Gefen for this special price!
Format:
Paperback
ISBN 10:
9659129408
ISBN 13:
978-9659129409
Catalog Number:
D-1109
Number of Pages:
266
Year Published:
2009
Description:
This book comes with an MP3 CD and describes an easy way of learning to read and pronounce Hebrew. It is ideal for self-study and can also be used in a classroom environment.
Principle Goals of the Book
To provide an easy way of learning to read Hebrew. (CD included)
To make the study process easier by studying words which have been adopted from English into Hebrew.
The Teaching System
Students first read easy-to-pronounce syllables which are then joined together to form words and sentences.
There are many exercises and an answer key is included. An audio CD helps students get the pronunciation correct and teaches them how to read Hebrew.
At the back of the book, there are lists of the most common and useful words in the Hebrew language. There is also a chapter on Hebrew writing.
Target Market
This book is meant for beginning students of Hebrew of all ages.
It is meant for both the classroom environment and for those studying by themselves.