HOME
|
The Official Gefen Publishing House Website -
One Stop Webstore for Jewish Books and Hebrew Studies Textbooks From Israel
|
Join Email
List
|
Contact
us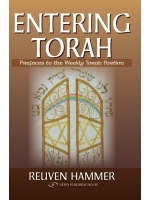 Entering Torah
Prefaces to the Weekly Torah Portion
Author:
Reuven Hammer
Price: $29.95
Special Price: $28.00
Buy from Gefen for this special price!
Format:
Hard Cover
ISBN 10:
9652294349
ISBN 13:
978-9652294340
Catalog Number:
g434 / 434-0
Number of Pages:
320
Year Published:
2009
Description:
For the believing Jew today, no less than for those in the past, the study of the weekly portion is a religious experience. For this reason it is customary to consider the section along with its traditional commentaries. It is important to know not only what the Torah meant when it was written, but also what it has meant within Judaism since then. It is also important for intellectual honesty to distinguish between the two. Moderns also have the advantage of using the results of linguistic studies and comparative studies of other ancient texts as well as archaeological finds to help us understand the text.
The Torah reflects an entire worldview concerning the nature of God and of human beings, the task of Israel and the way in which we are to live. Thus it is an ancient text that is ever new and always renewing itself. One studies it not only to learn what was, but also to discover what we are and how we are to live.
These prefaces are meant to complement and enrich your study of the portion by pointing out important ideas found therein and raising problems and questions for consideration. Enter into the Torah text with this lively companion and experience the full impact of the age-old – and totally new – weekly portion.
Reviews:
"
Entering Torah
is a warm, welcoming embrace, a door opening to a world of wisdom, compassion and spirit, and the guiding hand of a master teacher and rabbinic sage. I can't think of a better companion to explore the ways that God, Jews and the world have loved each other across the ages!"
–
Rabbi Bradley Shavit Artson
,
Dean, Ziegler School of Rabbinic Studies
Vice President, American Jewish University
"A wonderfully enlightening and inspiring set of introductions to the Torah readings! Rabbi Hammer calls on a rich feast of philosophy, archaeology, science, law and literature to make the Torah readings relevant to the modern, college-educated Jew of the 21st century. Rather than dodging the hard questions that the Torah raises, he helps us confront them and formulate an intelligent, honest and meaningful appreciation of what the Torah can and does teach us."
–
Rabbi Elliot Dorff, PhD
,
Rector and Distinguished Professor of Philosophy
American Jewish University
"Reuven Hammer is a consummate commentator of sacred Jewish texts, biblical and liturgical. In a felicitously entitled new work,
Entering Torah
, he guides us through a world that is simultaneously ancient and modern. He has a keen sense of narrative development and in his section on the Book of Genesis, his sketches of the Patriarchs are both compelling and challenging...Artfully written."
–
Professor Bezalel Porten
,
Hebrew University, Jerusalem
A veritable thesaurus of ideas and insights based on the weekly Torah portions, all of which are relevant to us today. This is must reading for all who wish to taste and learn from the wellsprings of our Book of Books and to become immersed in the wisdom of ages.
-
Professor Shalom Paul
Professor Emiritus and Former Chair of the Bible Department
Hebrew University, Jerusalem
A valuable resource for individual reading as well as study groups... I recommend it with enthusiasm.
-
Professor Jeffrey H. Tigay
University of Pennsylvania