HOME
|
The Official Gefen Publishing House Website -
One Stop Webstore for Jewish Books and Hebrew Studies Textbooks From Israel
|
Join Email
List
|
Contact
us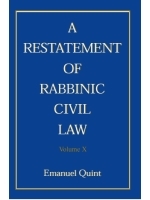 A Restatement of Rabbinic Civil Law Volume X
Author:
Emanuel Quint
Publisher: Gefen Publishing House
Price: $50.00
Buy from Gefen for this special price!
Format:
Hard Cover
ISBN 10:
9652293237
Catalog Number:
323-7 / g323
Number of Pages:
336
Year Published:
2005
Description:
Long accepted as the standard code of Jewish law and practice, the Shulhan Aruch was written by Joseph Karo in 1565. This tenth and final volume of A Restatement of Rabbinic Civil Law by Rabbi Emanuel Quint represents a monumental and unprecedented achievement in the scholarship of rabbinic jurisprudence. In this restatement, as in all previous nine volumes, Rabbi Quint brings fresh insight, modern research methodology, and succinct explication to Hoshen haMishpat, one of the four sections of the Shulhan Aruch.
A Restatement of Rabbinic Civil Law: Volume X¾Laws of Prohibition Against Damages of Another''s Property, Direct and Indirect Damages, Informers, Laws of Assault, Obligation to a Fellow Jew, and Removal of Dangerous Conditions continues to open the brilliant halachic work of the Shulhan Aruch to the wider audience it deserves: to the educated layperson and advanced scholar alike. The result is a comprehensive, well-organized body of rabbinic jurisprudence, available to the English reader for the first time.
Rabbi Quint, the cofounder of the Jerusalem Institute of Jewish Law (with Rabbi Adin Steinsaltz), an institute dedicated to the study and dissemination of Jewish civil law, brings his professional expertise to bear on the vast array of Jewish legal processes, procedures, and practices encoded here. The reader may be surprised and challenged in the discovery that such a meticulous legal¾yet not overly religious¾system fits under the category of Jewish law. In his unique position as ordained rabbi, successful lawyer, and distinguished Talmudic scholar, Rabbi Quint illuminates Judaism not only as a religion, but also a culture and community.
Containing a wealth of relevant material for even the most talented comparative law students, this tenth volume contains topics such as prohibitions against damaging another''s property, damages caused by one''s property (such as animals), direct and indirect damages, informers, standards of care in guarding an animal, laws of assault, obligation to a fellow Jew, and removal of dangerous conditions.
A Restatement of Rabbinic Civil Law: Volume X provides the author''s own commentary and also incorporates the four centuries of scholarship since the Shulhan Aruch was written, including commentaries and responsa literature. Ample footnotes help to guide the reader every step of the way.
If the Shulhan Aruch can be said to be the distilled essence of Jewish law, then A Restatement of Rabbinic Civil Law triumphs as a major judicial-literary landmark of its own.