HOME
|
The Official Gefen Publishing House Website -
One Stop Webstore for Jewish Books and Hebrew Studies Textbooks From Israel
|
Join Email
List
|
Contact
us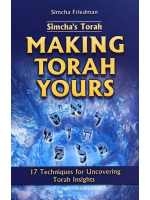 Simcha's Torah

Making Torah Yours
Author:
Simcha Friedman
Publisher: Gefen Publishing House
Price: $18.00
Buy from Gefen for this special price!
Format:
Hard Cover
ISBN 10:
9652293504
Catalog Number:
350-4
Number of Pages:
192
Year Published:
2005
Description:
There have been many books that have attempted to uncover the secrets of the Torah through deciphering codes however, Simcha Friedman offers the reader something different, with thought-provoking novella and practical exercises, revealing the secrets to ''''making Torah yours.'''' Friedman has created a unique learning tool that empowers the reader to interpret and unlock the hidden meanings within the Torah and to develop personal insights through 17 Torah techniques, including:
AaT-BaSH: Systematic substitution of letters
Gematria: Numerical value of Hebrew letters
The changing of the order of letters in the words of the Torah
The shape and form of the Hebrew letters
The changing of past to future tense and vice-versa
Making Torah Yours is a unique learning tool that will benefit the beginner as well as those more advanced. When the reader is determined to understand a particular sentence or word within the Torah''''s text, this book can serve as a reference for interpreting passages in a whole new light. Stimulate the intellect and enliven the soul; soon, you too will be able to uncover Torah insights that you will want to share with family and friends.