HOME
|
The Official Gefen Publishing House Website -
One Stop Webstore for Jewish Books and Hebrew Studies Textbooks From Israel
|
Join Email
List
|
Contact
us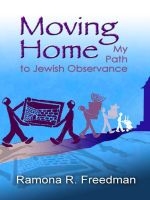 Moving Home

My Path to Jewish Observance
Author:
Ramona R. Freedman
Publisher: Gefen Publishing House
Price: $12.95
Buy from Gefen for this special price!
Format:
Paperback
ISBN 10:
9652293148
Catalog Number:
314-8
Number of Pages:
208
Year Published:
2004
Description:
In this intimate true story, a young Australian author describes her journey towards observant Judaism, detailing every arduous step, from Kashrut and Shabbat, to relationships and work. Told from the refreshing perspective of a young person, using the analogy of 'building a home', Freedman describes much more than the superficial details, such as 'paint color and carpets', but reserves her unique and warm advice for the more profound and enriching aspects of Jewish living.