HOME
|
The Official Gefen Publishing House Website -
One Stop Webstore for Jewish Books and Hebrew Studies Textbooks From Israel
|
Join Email
List
|
Contact
us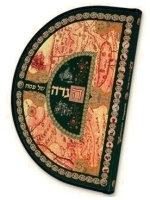 The Round Haggadah Hebrew - English Edition
Matan Arts Haggadah
Author:
David Arnon
Price: $48.00
Special Price: $44.00
Buy from Gefen for this special price!
Format:
Hard Cover
ISBN 10:
9659025815
ISBN 13:
9789659025817
Catalog Number:
g581 D-180
Number of Pages:
128
Description:
Dimensions: 17 x 24 cm
Passover Haggadah – winner of the prestigious SAPPI European Printer of the Year Award
This magnificent Haggadah is the result of the combination of longstanding traditions in Jewish holiday books and the most advanced printing techniques. The Haggadah is printed on the finest paper, in full color with selective ultra-violet lamination, and cut with a unique method – an original invention of our publishing house. When the book is open, it assumes the shape of shmurah matzah.
This magnificent Haggadah represents the 3,500 year-old cultural roots of the People of Israel, and highlights the adherence to quality in design and production witnessed in Israel today.
With its unique shape and stunning, meticulous design, bestowed with numerous works of art, this Haggadah beautifies and enhances the holiday table, as well as the family bookshelf.
The Round Haggadah is full of rich illustration, and complete with English translation. This Haggadah includes a special section in which to record the names of the seder participants each year, a lovely and important reminder for the future.