HOME
|
The Official Gefen Publishing House Website -
One Stop Webstore for Jewish Books and Hebrew Studies Textbooks From Israel
|
Join Email
List
|
Contact
us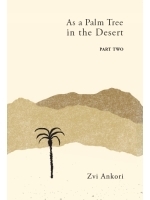 As a Palm Tree in the Desert Volume 2
Author:
Zvi Ankori
Publisher: The Hebrew University Magnes Press
Price: $18.00
Buy from Gefen for this special price!
Format:
Paperback
ISBN 10:
9652294365
ISBN 13:
9789652294364
Catalog Number:
978-9652294357
Number of Pages:
456
Year Published:
2008
Description:
A young boy receives an atlas from his mother. Together they embark on imaginary journeys, wandering through hills and valleys; along rivers and coastlines; and across sandy desert landscapes. As they dream of adventurous expeditions, they delve into the histories and cultures of faraway, foreign lands.
At the same time, the boy explores his father's 'territory' – the 'Jewish Bookcase' comprised of tomes of biblical, Talmudic and rabbinic literature. Over the years, the pensive child becomes a youth and the youth grows up to become a man. In the process, he travels the imaginary roads carved out by each parent, merging within himself – indeed embodying – their two distinct legacies.
As a Palm Tree in the Desert tells a story of epic proportions, spanning half a century, embracing three generations, crisscrossing five continents, and bearing witness to two world wars. It reflects moments of high hopes and deep despair. It narrates tales of human destinies that unfold against a backdrop of revolutions and the Holocaust. The story ends on the eve of the foundation of the State of Israel, but often harks back to previous centuries or 'fast-forwards' to our times.