HOME
|
The Official Gefen Publishing House Website -
One Stop Webstore for Jewish Books and Hebrew Studies Textbooks From Israel
|
Join Email
List
|
Contact
us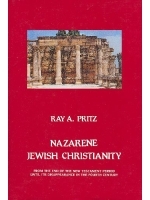 Nazarene Jewish Christianity

From the End of the New Testament Period until its Disappearance in the Fourth Century
Author:
Ray Pritz
Publisher: The Hebrew University Magnes Press
Price: $34.80
Buy from Gefen for this special price!
Format:
Hard Cover
ISBN 10:
9652237981
ISBN 13:
9789652237989
Catalog Number:
9652237981
Number of Pages:
160
Year Published:
1992
Description:
Nazarene Jewish Christianity is a comprehensive study of the heirs of the earliest Jerusalem church, their history and doctrines, their relations with both synagogue and the growing Gentile church. The author analyzes all sources, Jewish, Christian, and pagan, which can throw light on the sect and its ultimate mysterious disappearance. He also deals with the Birkat haMinim and historicity of the flight to Pella.