HOME
|
The Official Gefen Publishing House Website -
One Stop Webstore for Jewish Books and Hebrew Studies Textbooks From Israel
|
Join Email
List
|
Contact
us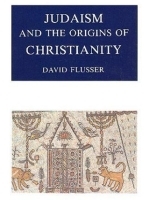 The Historical Jesus? Find him in Flusser's Writings
Judaism and the Origins of Christianity
Author:
David Flusser
Publisher: The Hebrew University Magnes Press
Price: $83.00
Special Price: $74.00
Buy from Gefen for this special price!
Format:
Hard Cover
ISBN 10:
9652236276
Catalog Number:
9652236276
Number of Pages:
732
Year Published:
1998
Description:
For more than three decades, Professor David Flusser of the Hebrew University in Jerusalem has pioneered new understandings of the Jewish background of early Christianity. Many have been fascinated by his unique monograph on Jesus, translated into several languages, Most of his scholarly articles in English, including some new contributions as well as many published in not easily accessible journals, have been collected in this one volume. A must for New Testament scholars, and students of early Judaism, it will also be welcomed by the many lay persons for whom Professor Flusser has provided illumination on the origins of Christian faith.