HOME
|
The Official Gefen Publishing House Website -
One Stop Webstore for Jewish Books and Hebrew Studies Textbooks From Israel
|
Join Email
List
|
Contact
us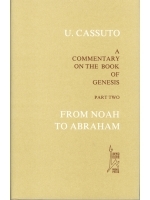 A Commentary on the Book of Genesis Part 2 VI–XI From Noah to Abraham
Author:
Umberto Cassuto
Publisher: The Hebrew University Magnes Press
Price: $50.00
Special Price: $44.00
Buy from Gefen for this special price!
Format:
Paperback
ISBN 10:
9652235407
Catalog Number:
9652235407
Number of Pages:
400
Year Published:
1964
Description:
From Noah to Abraham
, is the second in a series of comprehensive commentaries on the Book of Genesis that the late Professor Umberto Cassuto had planned as part of a magnum opus embracing the whole Pentateuch and also the Book of Psalms.
The present work is rich in original insights and scholarly illuminations that make it an invaluable guide to the Bible student – be he an erudite scholar or just a well-read lay enquirer – irrespective of the opinions he holds with regard to the Higher Critical doctrines.