HOME
|
The Official Gefen Publishing House Website -
One Stop Webstore for Jewish Books and Hebrew Studies Textbooks From Israel
|
Join Email
List
|
Contact
us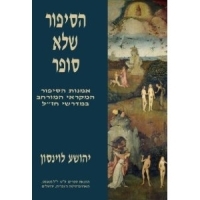 The Twice Told Tale
A Poetics of the Exegetical Narrative in Rabbinic Midrash (Hebrew)
Author:
Yehoshua Levinson
Publisher: The Hebrew University Magnes Press
Price: $38.88
Buy from Gefen for this special price!
Format:
Paperback
ISBN 10:
9654932067
Number of Pages:
372
Year Published:
2005
Description:
This book presents a descriptive and historical poetics of the re-written bible, or the exegetical narrative in rabbinic literature of Late Antiquity. The exegetical narrative is composed of a story which simultaneously represents and interprets its biblical counterpart. As a hermeneutical reading of the biblical story presented in narrative form, its defining characteristic lies precisely in this synergy of narrative and exegesis.
This genre is but one historical manifestation of the general cultural phenomenon of re-writing canonical texts which begins already in the Bible itself and could be said to reach the modern era in works by Thomas Mann, Joseph Heller, and even "Moses the Prince of Egypt." Paradoxically, it is precisely the canonical status of the text – that which acts as the foundation for its cultural legitimacy – that invites its constant transformation, violation, and appropriation by succeeding generations of readers. Within this general perspective, this book concentrates on one specific historical moment – rabbinic culture in Late Antiquity. Why, in what circumstances, and through which means does rabbinic culture transfigure itself by re-imagining its past? How does this genre exert its hegemony over the sacred text, its power and meanings? What are the cultural paradigms of coherence that both enable and restrain its reception? These are some of the questions the book addresses in an attempt to provide a new perspective on the cultural imagination of the rabbinic period.