HOME
|
The Official Gefen Publishing House Website -
One Stop Webstore for Jewish Books and Hebrew Studies Textbooks From Israel
|
Join Email
List
|
Contact
us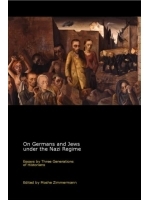 On Germans and Jews under the Nazi Regime
Essays by Three Generations of Historians
Author:
Moshe Zimmerman
Publisher: The Hebrew University Magnes Press
Price: $56.70
Buy from Gefen for this special price!
Format:
Hard Cover
ISBN 10:
9654932547
Number of Pages:
448
Year Published:
2006
Description:
This unique volume, by the Richard Koebner Minerva Center, which is sure to engage the attention of both scholars and the general public, is an unparalleled cross-generational and international dialogue among eminent historians about three central aspects of the unfathomable enigma of the Holocaust.
In the first section, beyond a seminal overview of sixty years of research, the writers reflect on historiography and historical thought ranging from contemporaries of the Third Reich to the ongoing discussion about the controversial role post-war West German historians played in Holocaust research.
This is followed by a section focusing on social antisemitism until the 1950s and the German publicís awareness of the Holocaust, including the posture of the German Resistance Movement.
The third major theme is the Jewish society, from its initial attempts to develop new forms of societal life under the Nazi regime until the brink of annihilation during the mass deportation from the Warsaw Ghetto to Treblinka.
The concluding chapter sheds light on the unresolved tension between reflective personal memory and impersonal historical research of this dark period in human history.