HOME
|
The Official Gefen Publishing House Website -
One Stop Webstore for Jewish Books and Hebrew Studies Textbooks From Israel
|
Join Email
List
|
Contact
us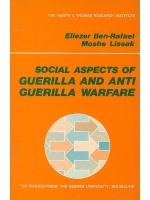 Social Aspects of Guerilla and Anti-Guerilla Warfare
Authors:
Eliezer Ben-Rafael
Moshe Lissak
Publisher: The Hebrew University Magnes Press
Price: $11.50
Buy from Gefen for this special price!
Format:
Paperback
ISBN 10:
9652233145
Number of Pages:
96
Year Published:
1979
Description:
The focus of these Studies in Comparative Modernization is both analytical and comparative, probing the diverse social, economic and political patterns which develop in different modernizing societies and the factors which can explain such diversity. The papers presented test generalizations through comparative analyses, or against specific case studies.